DD Blog: Interview with The Woodbine Workshop
We spoke to Anna Woodbine of The Woodbine Workshop, the designer behind the beautiful cover of our upcoming collection, Let Me Know When You're Home: Stories of Female Friendship. She answered questions on her career path, the creative process of designing and what she loves about her job.
________________
Hi, Anna! How did you get into illustration and design?

I did a Graphic Design degree at uni that specialised in 'image rich media' – which, I'm aware now, doesn't actually mean anything. It was kind of the loose-parts specialist area of the degree and scooped everyone up who didn't have a 'real' specialism, like branding or print. I also spent some time during my degree studying illustration in Boston at the Massachusetts College of Art and Design. I emerged from university with a degree but no idea what to do with it – I had no real specialism so I took whatever jobs I could and tried to squeeze some element of creativity into them wherever it would fit.
I have done a few loosely creative jobs in my career, from marketing design to studio management for a fun digital agency, but felt like I'd never found my 'thing' until I had a real lightbulb moment reading an interview with a book designer in Stylist magazine. It seemed SO obvious – why wasn't I a book designer?! I bought books solely for their beautiful shiny hardback covers! I loved books! I loved design! Why had it never occurred to me to combine the two? I don't know, but it definitely hadn't. I started to design covers in my evenings and told anyone who would listen that that was what I wanted to do. A few lovely serendipitous coincidences led to me getting some mentorship from a book designer friend of a vague acquaintance on the floor below, and then a few months later a call from an Art Director asking if I could pop in that day and interview for a Junior Designer role.

Amazingly I got the job from showing three flimsy book designs on my iPhone and a lot of enthusiasm. Lots of years and books later I now work from my studio in lovely, leafy Wiltshire.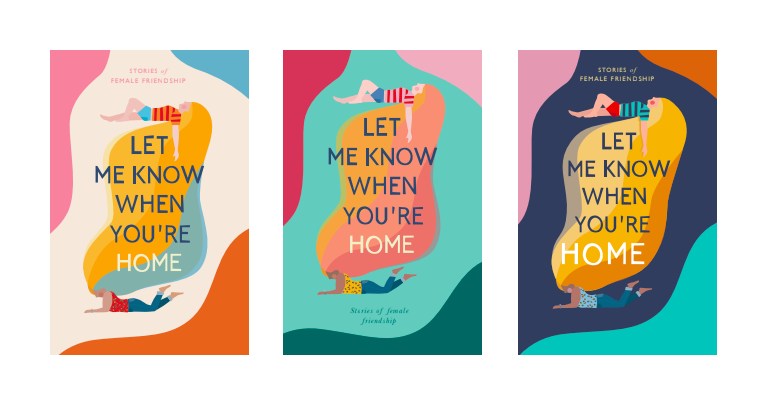 What were the thoughts behind the design process for the Let Me Know When You're Home cover?

It was a pretty dreamy brief and I've followed Dear Damsels since day one, so I was thrilled to be asked to be involved. The brief was all about conveying that beautiful, close, complicated female friendship in its myriad forms. I really loved the idea of connection even when there's physical distance between you. I've moved out to the sticks in the last few years so that felt particularly poignant to me personally.
I started by creating a moodboard to get our visual direction pinned down – this has a lot of pinks, fawns, greens and yellows with lots of bold, confident graphic depictions of women, which we all loved. So visually we had a strong idea of styling from the get-go. I sketched a few takes on this and luckily Abby and Bridie loved the same two I did. Both showed two women lying down, easy in each other's company and connected via the title. I worked colour into both and we umm-ed and ahh-ed but all ended up favouring the same, which is now the final cover. The physical connector of the hair was the clear winner for all of us. It felt feminine, visceral and personal whilst creating a positive and striking image for the cover.
It was actually an unusually easy journey to get to the final cover, which is so rare! I love it, and I hope that it will capture some element of all the many voices heard in the book.

What's been your favourite project to work on so far?

Ever?? Well, that's a hard one. I think my style lends itself to the feminine really well so I definitely enjoy working on covers that have some element of a feminine voice. Both My Past is a Foreign Country and Jakob's Colours are very different but totally beautiful books written by strong, inspiring women telling two very different stories of struggle and strength. I loved using these voices to create bright, positive covers that celebrate adversity and the strength we all have within us.

What's your favourite part of your job?
I love that you start the morning with a blank page or screen and by dinnertime there's something visual on it; there's always something to show for your effort at the end of the day! It's lovely that I can combine pen, ink, paint, pencil and digital in whatever way I like.
I've always felt very proud to say I'm a book designer. I love that books are read for leisure, escapism, betterment, knowledge – all so positive and it's so nice to contribute to an industry that feels like it's there solely for people's pleasure. And of course, I totally judge a book by its cover so hopefully I get it right sometimes, too.
You can find The Woodbine Workshop on Instagram and Etsy.
---
Help us to crowdfund our first paperback publication: Let Me Know When You're Home: Stories of Female Friendship
Find out more
Dear Damsels is your collective.
We want to create a space on our website where you can find out what your collective is doing for you. Whether it be upcoming events, publications, projects or podcast episodes, this blog will be where we communicate directly with you about what is going on in the world of DD.