DD Interview: Learning to Pot
Dear Damsels interviews budding potter, Kitty Stogdon, about the lessons she's learned – in the studio, and in life.
What made you start potting?
I had some lessons in the school holidays when I was younger, just with a friend. Then when I was in London, I wanted to get into something creative and try to meet new people. I wasn't making anything . . . I used to make stuff and then I wasn't making stuff. I wanted to make more stuff! So I felt like trying out pottery again and I found somewhere local that had workshops. Now I'm a member at The Kiln Rooms in Peckham and spend weekends and evenings there when I can.
What have you learned about yourself from your craft?
Well, I would say it's become very obvious when I'm making pots how quickly I want things to happen usually – especially when living in London. But all the different stages of making things in clay take time so it is a good way of slowing down and not thinking about work and busy London life. You just have to focus on what you're doing and take your time over it. I've also learned that I'm not very good at self-promotion, which is something I'm working on.
Is there anything you wish you knew how to do – in pottery and in life?
In pottery, there's many things I wish I could do. A small thing: I'd like to be able to make a plate. A little harder: I'd like to be able to make my own glazes so that my pots don't look like everyone else's pots in the studio. And my biggest goal at the moment: I'd like to be able to sell a few things every now and then to people I don't know – that's quite exciting – rather than just to people I do know. I'd like to do more sales and shows and things – that's what I'm working towards. And in life, another skill I'd like to learn? I'd like to be able to speak another language . . . otherwise I'm quite happy learning what I'm learning at the moment.
Tell us one other thing that you've learned in the past year.
I feel like there are a few life lessons I'm learning, going through the early stages of my career. I have learned there's no need to stick with a job for a full year just to get it on the CV. I don't think that's necessary, when everyone keeps saying: 'I'm just going to do it for so long, for the CV . . .' And I also don't think it's necessary to go the conventional route. I think you might be told this is the path up the little career ladder, but actually, if you find a different way, there's nothing wrong with that. Or meandering – there's nothing wrong with that either.
Have you got any tips for anyone looking to take up a new skill?
I would say if you're really keen you need to set aside a certain amount of time – per week, per day, whatever – that you dedicate to it. If you're not very good at doing that yourself you should find a course like I did, and do your three hours every week, or set aside part of your morning at the weekend. I think that's probably the first thing to do. I'm notoriously bad at not doing stuff just because I haven't started it, and getting the fear before I start. By forcing yourself to start, it becomes a lot easier to keep going! If you really want to do something you've just got to find a way do it.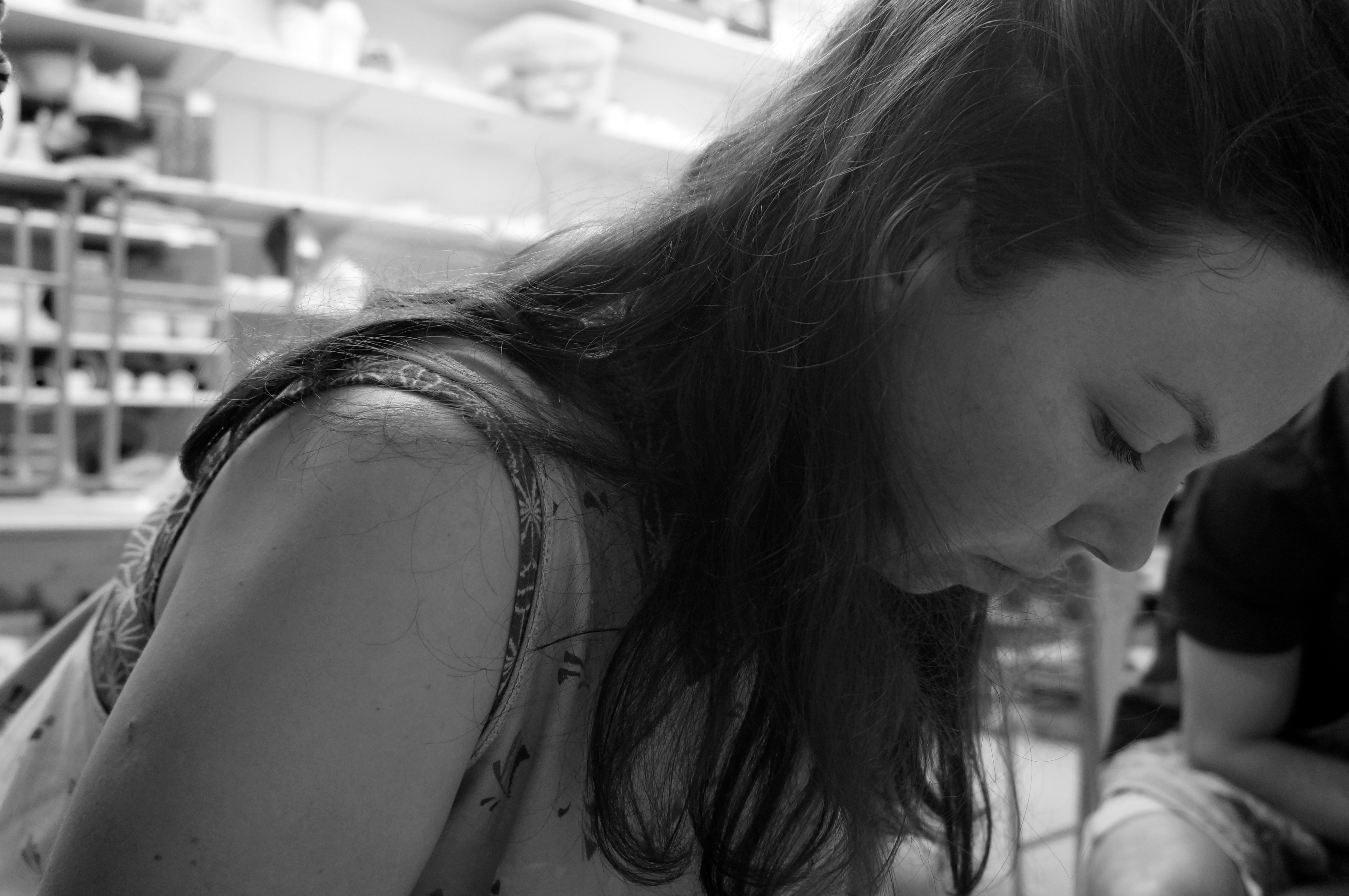 All the beautiful photos in this piece were taken by photographer Libby Earland. Find more of Libby's work here: cargocollective.com/Libby_Earland. Libby has also written for Dear Damsels. Ode to My Underwater Camera is about her first camera.
Read more from Kitty Stogdon in her writing for Dear Damsels. Thoughts Whilst Throwing was part of our inaugural theme of CREATION. See more of her beautiful work via her Instagram @ks_ceramic.